TotalEnergies BWF Sudirman Cup Finals 2023: Knockout Stage (19-21 May)

KNOCKOUT STAGE DRAW: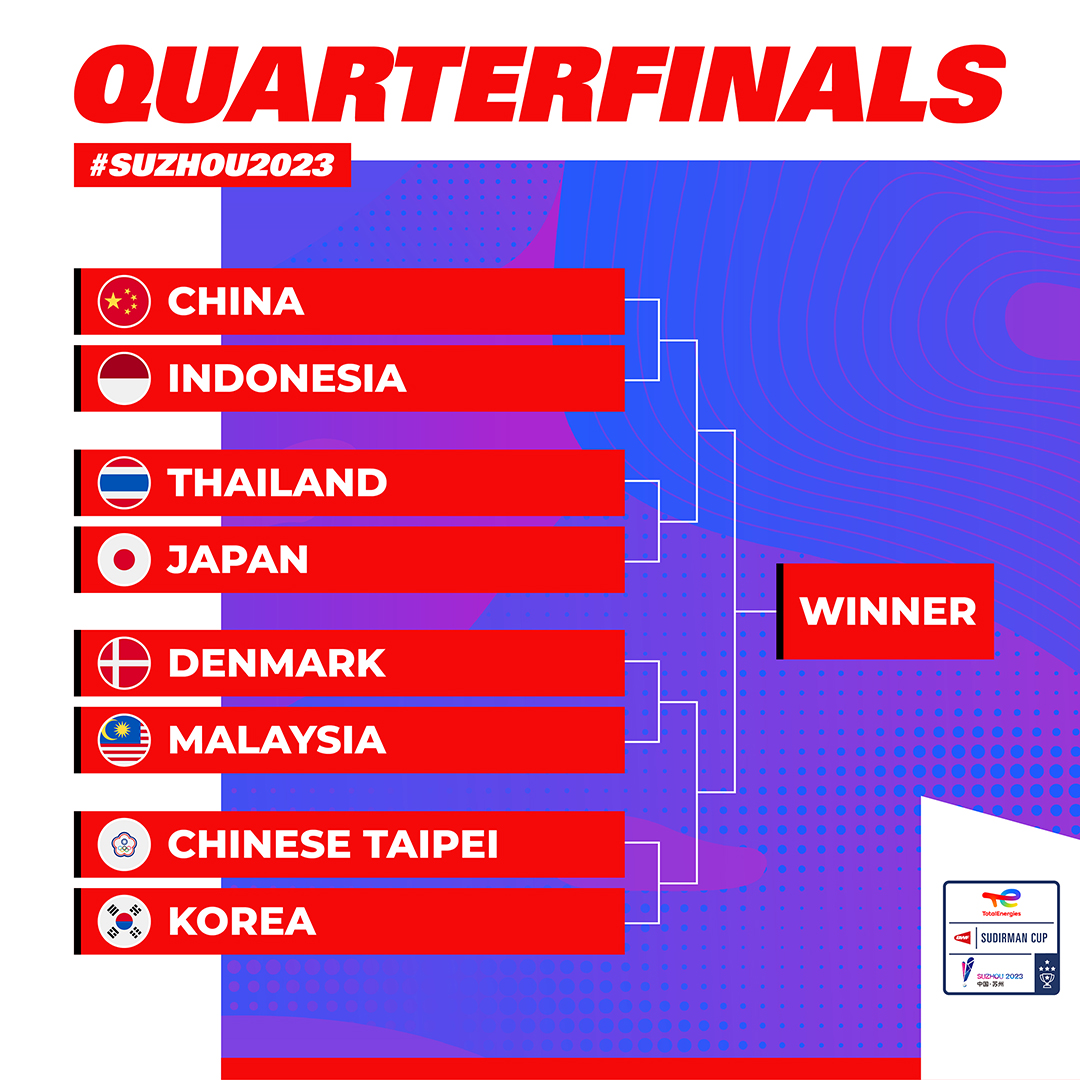 COMPETITION SCHEDULE:
Friday 19 May 2023
10am: TPE v KOR, THA v JPN
5pm: CHN v INA, DEN v MAS
Saturday 20 May 2023
10am: Semifinal 1
5pm: Semifinal 2
Sunday 21 May 2023
2pm: Final
DAILY SCHEDULE/RESULTS/LIVESCORE: https://bwf.tournamentsoftware.com/sport/matches.aspx?id=A8920452-3D1B-4964-ABD7-6AC0E6AC3CCC
2021 MEDALLISTS:
Gold – China
Silver – Japan
Bronze – South Korea / Malaysia
GROUP STAGE RESULTS: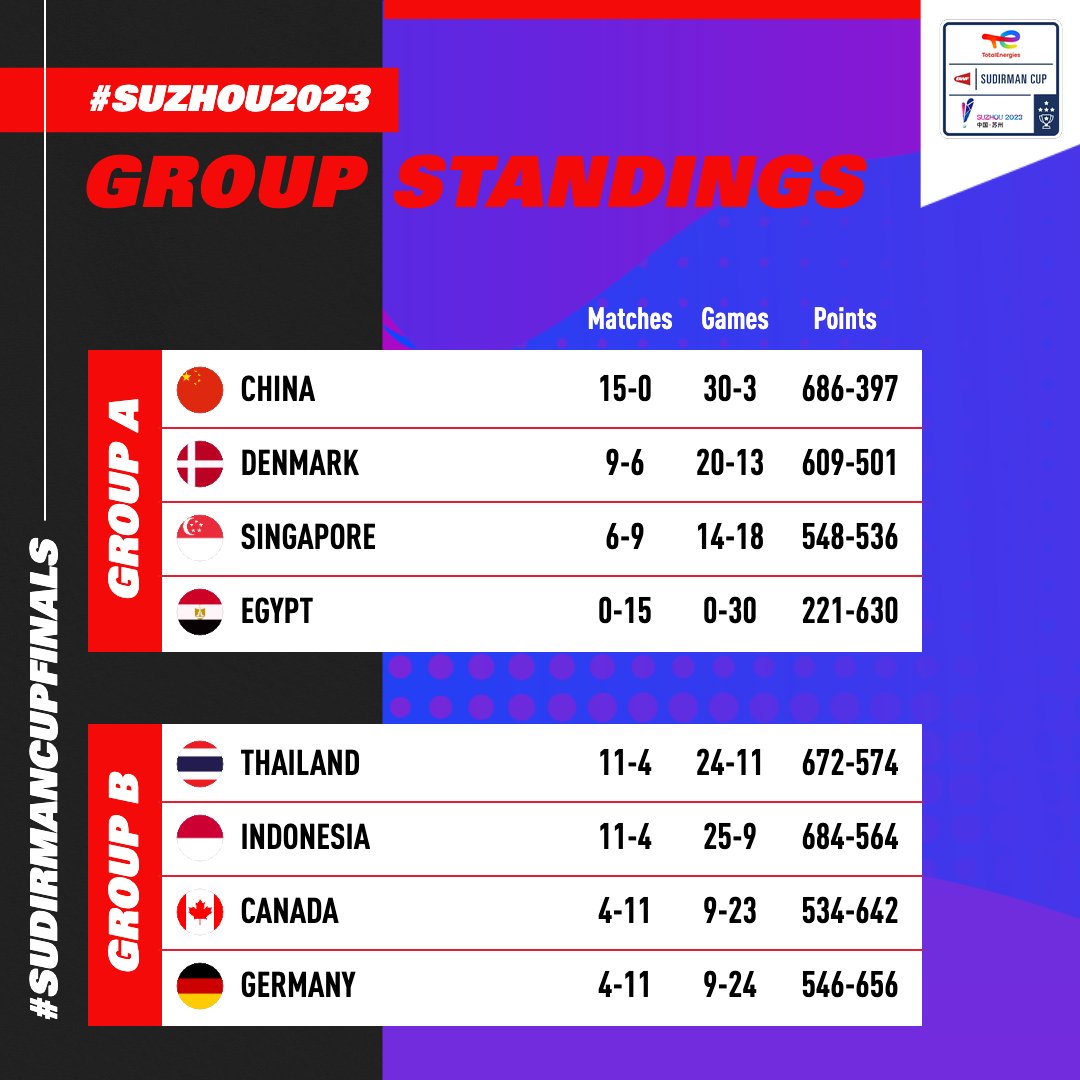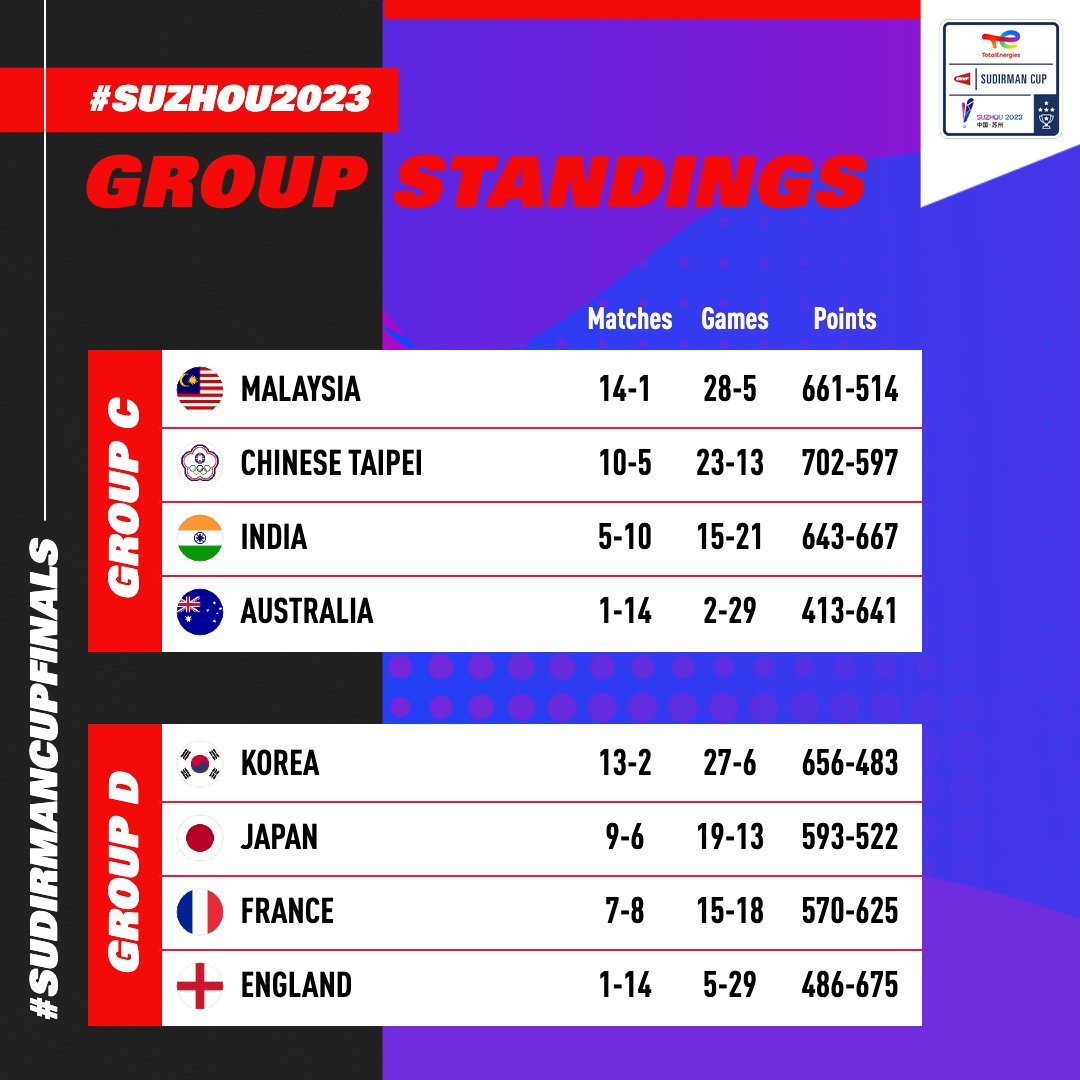 SMOOTH SAILING?
No major upsets in the group stage as all seeded teams make it through to the quarterfinal stage. The only upsets came in winning the group as both JPN and INA fail to live up to their seeding and lost their group matches against THA and KOR respectively.
China cruises to the top of their group with DEN joining them. Small scare in group stage against SGP for World Champions Zheng SW and Huang YQ as Terry Hee and Jessica Tan were playing at their best but fail to convert this to a win. Now they face INA who lost their last group match against THA 2-3. Key moment in that tie was Christie failing to convert an 18-14 lead and match point in deciding game against Vitidsarn. Will be interesting to see whether INA can upset CHN's smooth sailing Sudirman Cup so far on home soil and will likely rest on INA winning MD, MS, and WS/WD.
JPN is whitewashed by KOR in their final group match. Watanabe/Higashino suffer their third straight loss against Kim WH/Jeong NE, albeit this time in three games. Nishimoto wasn't able to get over his 1-5 H2H against Jeon HJ despite their last meeting being back in 2017 and recent good form in European leg of World Tour this year. Yamaguchi faltered against An SY and Fukushima/Hirota suffer their first ever loss against Baek HN/Lee SH. Now they face THA who won Group B in a thriller against INA. MD and WD seem to have JPN as favorites but XD, MS, and WS are happening first in this tie so THA can grab the tie the same way they won Group B if they win the first three matches.
KOR won the group and TPE are runners-up to MAS after only Tai TY won the lone point in that tie. XD and WD are pretty solid KOR points so TPE depends strongly on Chou TC, Tai TY and Lee Y/Ye HW to win the tie for them.
Uphill battle for DEN to beat MAS who overperformed in group stage. Axelsen vs Lee ZJ (or Ng TY) promises to be a thriller and DEN's MD and XD can probably put up a challenge but a weak WS and WD puts DEN at a significant disadvantage here.